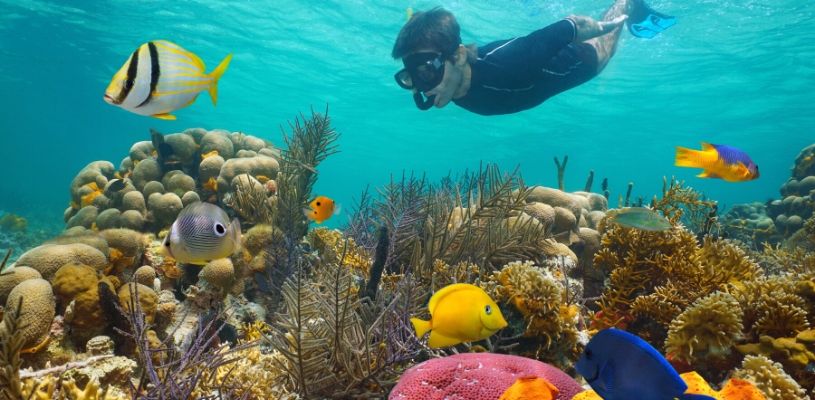 Coiba Island diving is an incredible experience that draws beginners and experienced divers alike from around the world. Coiba National Park is a remote marine preserve 14 miles off Panama's southern coast. Best of all, it is teeming with a diverse range of unique marine wildlife. With over 760 species of fish, 33 types of sharks, 20 species of whales and dolphins, and more coral reefs than Panama's neighbors in the eastern Caribbean, Coiba is one of the most unique diving locations on Earth.  
This diversity of marine wildlife exists in this region due to the Humboldt Current which delivers cold, nutrient-rich water toward the surface that makes it possible to sustain the rich biodiversity. On a single dive, you can see: 
Coral reefs
Humpback whales
Pilot whales
Killer whales
Manta rays
Marlins
Dolphins
The Coiba Island Marine Reserve is one of the few locations in the world where both northern and southern humpback whales migrate to give birth and teach their young how to swim and dive—and they love to put on a show! It's not only whales, however, who understand that this area is a safe refuge. Other marine animals such as sea turtles and giant manta rays can often be spotted within the safety of the reserve area. 
The Best Coiba Dive Center in the Region 
Panama Nautical Club operates the best Coiba Island diving expeditions from our base on the island of Boca Brava. With a host of modern first-rate benefits and amenities, we can provide you with the thrilling Coiba diving experience you seek. We offer the most convenient Panama scuba diving vacation packages in the region, as well as a host of other exciting activities that the whole family can enjoy. 
If you have any questions about our Coiba Island diving expeditions, please contact us.