We are the leading Panama sport fishing resort located in the Gulf of Chiriquí on the Pacific Coast of Panama. Our Island location provides a breathtaking 360-degree view of some of the most prolific Panama fishing grounds in the world. Sport fish in hannibal bank for gigantic black or blue marlin, tuna, dorado, roosterfish, wahoo, and cubera snappers. For an unforgettable experience come fish with us.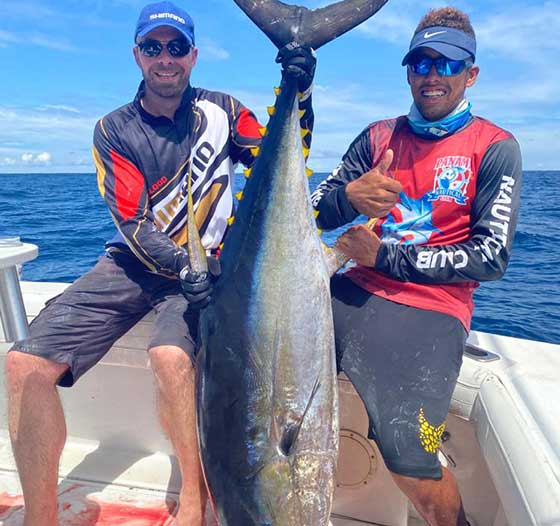 Panama yellowfin tuna is some of the best fishing in the world.  Panama is called  "Tuna coast" since in mid February massive schools of yellowfin tuna start migrating through the Gulf.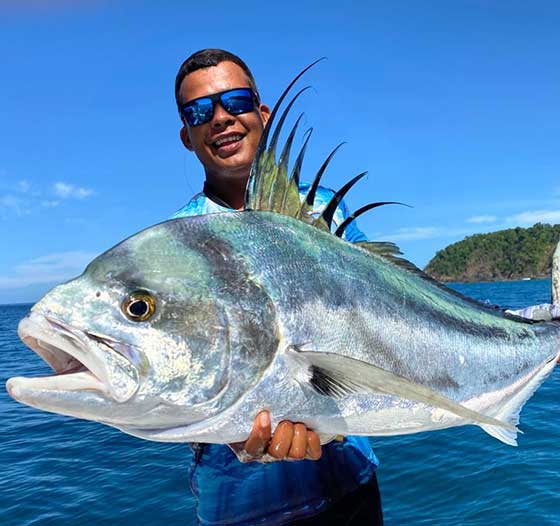 The Pacific coast of Panama is famous for Roosterfish all year around. Our favorite spots for Roosterfish is Isla Pradia and Isla Secas all located within  30 mins from our resort.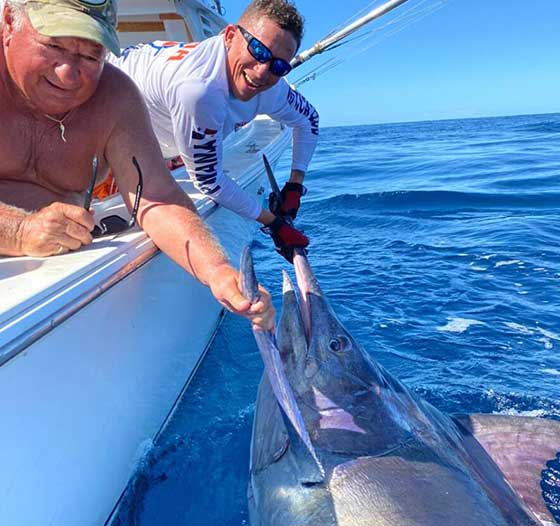 Catching a Panama Black Marlin is the holy grail of fishing and the experience of a lifetime. Panama Black Marlin Fishing is some of the best in the world year around.  
Private Luxury Island LoDge
Located on Isla Boca Brava in the Gulf of Chiriquí on the Pacific coast of Panama. The all-inclusive Panama fishing resort is only 40 mins from the sportfishing and  diving  grounds of Panama.
Escape on a Panama sport fishing trip and experience one of the world's most prolific big game fishing grounds. The Gulf of Chiriquí is a treasure of Panama with big game fishing at Hannibal Bank  and Isla Montuosa. During a 3-day trip, it is possible to land marlin, sailfish, yellowfin tuna, roosterfish, and cubera snapper. 
WHY FISH WITH US - COMPARED TO THE REST!
Luxury all-inclusive fishing lodge with New Zealand owner on site.

Private Island can accommodate up to 28 people and offers numerous sleeping configuration to cater for couples, family groups or larger fishing groups. All accommodation has hot water, AC and ocean views.

Two restaurants, beach club, infinity pool, spa, yoga studio, water toys, hiking, diving and horseback tours for your rest days.

Twin diesel inboard Sportfishing boats, full shade and fighting chairs.

Private marina and dock to board your vessels on your timing.

Complementary vacuum sealing of your catch.

Fluent english speaking captains with satellite trackers on every boat.

Our packages are a step above others and more competitive on a get what you pay for basis.
Our charter fleet of 32ft Blackfins with fighting chairs and shade is unique in the region. The fleet is perfectly maintained ensuring fast and reliable access to the most famous big game fishing areas in all of Central America, such as Isla Montuosa and Hannibal Bank. 
You are one step away from fishing in panama

Panama Nautical Club

5

Stars – Based on

36

User Reviews

Panama Nautical Club
5

Stars – Based on

26

User Reviews
Best Lodge ever You are always a little nervous taking a large group (24 guys) to a lodge your haven't been to. It's only natural to wonder about the cabins, food, service, boats and amenities. And the fishing.

We arrived to VIP service in Panama City and were transported to a Hilton Hotel located right at the mouth of the Panama Canal. So far so good. We toured the canal and city the next day arriving
at the airport in time to catch the afternoon flight to Boca Chica. Boats from the lodge met us at the
dock and transported us to the lodge and a lobster dinner.

The lodge and rooms are beautiful, air conditioned and clean with a killer view of the Pacific. For the next four days it was fish, fish and, oh yeah, fishing. We've visited Panama before and always found the quantity of fish to be surpassed by the quality. This trip was no different. We took Black Marlin to 650#, Cuberra, Roosterfish and a variety of inshore species.

Back to the lodge. The food and service was outstanding. We ate lobster, prawns, beef fillets, and Tuna steaks on an open veranda. One evening the lodge prepared pizza on a wood burning oven at their beach front restaurant for Happy Hour. How can it get better?

We were transported back to Panama City and toured the Embrea Indian Village. This was special as they used long dug out canoes, that leaked! Not to worry as the water is shallow and they provide life jackets. LOL.

The logistics for a large group touring, fishing, hotels and transportation is almost impossible. They
made it seem easy. Can't wait to go back

Penar-Group

4/08/2020

Perfect and professional. This place takes care of all little things, staff is wonderful, food is excellent and the bartender is from outer space. We look forward to coming back. If you want to take fish home think about this before you arrive. You need a cooler, take some fresh fish home with some frozen fish.

TucannonCellars

4/03/2020

Great trip with my sons The resort was exceptionally well maintained. Felt like a cruise on the concierge level from the time we were greeted on the dock with chilled hand towels, staff taking our luggage to our villa, and the welcome rum runners. The food was outstanding! There was a fixed dinner menu, but the chefs would prepare something special upon request, especially the fish we caught. David, the owner/operator was always checking in on us. Made to order breakfast each morning prior to fishing, with box lunches for all, fresh fruits, and beverages. Living area exceptionally clean, good size with bathrooms & walk-in showers. All the staff were wonderful & professional! Can't wait to go back.

I5280VHmichaelj

3/19/2020

My son and I had a phenomenal time here! Found it online and didn't know what to expect, so I called before booking and …MoreMy son and I had a phenomenal time here! Found it online and didn't know what to expect, so I called before booking and asked lots of questions. Everything was as described. The location is absolutely unreal, the fishing was top notch, the scuba was spectacular and the staff were highly accommodating and professional. Our 4 night stay included evening jungle hikes that started with us walking out our room and across the resort beach, and ended with us calling to howler monkeys on a vista overlooking the Pacific. The fishing boats are meticulously maintained and have Garmin tech, elite turbo engines and everything else needed for a killer day on the water. We caught (and released) a 400 pound Marlin, a 50 pound Dorado (Mahi-Mahi that was wonderfully prepared for dinner by the kitchen that night), Roosterfish and more. My 12 year old son was treated with great respect and kindness, and we felt very safe and in diligent hands during our scuba day at Isla Seca. The owner (David), checked in on us regularly to ensure our stay and activities were up to his high standards. We are ready to go back soon – THIS PLACE IS GREAT!

Zachary Hayes

2/14/2020

Bucket List Fishing Adventure Bucket list fishing adventure! The staff are wonderful, the accommodations are perfect, and the location makes it feel as you are on your own private island. We just returned from our trip. David arranged the transportation from the airport to the island. It was nearly seamless minus a hiccup with Copa Airlines for a few of us. However, David jumped in and was able to find a driver to get several of our party to the island so as to not miss out on any of the fun. We fished for four full days. The tuna bite was unbelievable. The billfish bite was great. We discovered that it is hard to land one however. That's why they call it fishing and not catching!
We had fresh seafood every night. They had an excellent selection of alcoholic beverages! Every morning, Gladys was waiting for us at the bar to serve fresh coffee. All in all, we could not of asked for more. Looking forward to going back one day and trying to land a Rooster fish.

Passport16210

1/20/2020

Phenomenal Experience My son and I had a phenomenal time here!

Found it online and didn't know what to expect, so I called before booking and asked lots of questions. Everything was as described.

The location is absolutely unreal, the fishing was top notch, the scuba was spectacular and the staff were highly accommodating and professional.

Our 4 night stay included evening jungle hikes that started with us walking out our room and across the resort beach, and ended with us calling to howler monkeys on a vista overlooking the Pacific. The fishing boats are meticulously maintained and have Garmin tech, elite turbo engines and everything else needed for a killer day on the water. We caught (and released) a 400 pound Marlin, a 50 pound Dorado (Mahi-Mahi that was wonderfully prepared for dinner by the kitchen that night), Roosterfish and more.

My 12 year old son was treated with great respect and kindness, and we felt very safe and in diligent hands during our scuba day at Isla Seca.

The owner (David), checked in on us regularly to ensure our stay and activities were up to his high standards. We are ready to go back soon – This place is great!!

zhayes01

1/17/2020

I went with a group of friends as well as my soon to be father-in-law. It exceeded my expectations in so many ways, it was the trip of a lifetime. We fished for three days and caught exactly what we made the hike to Panama for, a blue and …MoreI went with a group of friends as well as my soon to be father-in-law. It exceeded my expectations in so many ways, it was the trip of a lifetime. We fished for three days and caught exactly what we made the hike to Panama for, a blue and black marlin and more yellowfin than we could manage 🙂 as well as the notorious Rooster fish. Every member of the staff was extraordinary. Special thanks to our captain Carlos for putting us on the fish! In the morning our delicious breakfast ready at 530am and lunches packed in our coolers. By the end of day one they already knew what we liked to drink which was an amazing way to relax by the pool after the day on the boat. It was exceptional. Thank you to everyone at Cali Mia Island Resort for such a memorable experience and making us feel so at home. I will be back soon!

Casey Miller

1/14/2020

Planning my next trip back!!! I went with a group of friends as well as my soon to be father-in-law. It exceeded my expectations in so many ways, it was the trip of a lifetime. We fished for three days and caught exactly what we made the hike to Panama for, a blue and black marlin and more yellowfin than we could manage 🙂 as well as the notorious Rooster fish. Every member of the staff was extraordinary. Special thanks to our captain Carlos for putting us on the fish! In the morning our delicious breakfast ready at 530am and lunches packed in our coolers. By the end of day one they already knew what we liked to drink which was an amazing way to relax by the pool after the day on the boat. It was exceptional. Thank you to everyone at Cali Mia Island Resort for such a memorable experience and making us feel so at home. I will be back soon!

731caseym

12/20/2019

My son and I stayed 5 nights at the Cala Mia Island Resort (fantastic) and fished with the Panama Nautical Club for 3 full days (1 offshore & 2 inshore). Our fishing experience was exceptional. Our Captain, Carlos, and his First Mate, …MoreMy son and I stayed 5 nights at the Cala Mia Island Resort (fantastic) and fished with the Panama Nautical Club for 3 full days (1 offshore & 2 inshore). Our fishing experience was exceptional. Our Captain, Carlos, and his First Mate, Christian, knew the locals waters like the back of their hands. My son had a wish-list of 5 species of fish he hoped to catch and he landed 3 out of 4 including 10 of the elusive Rooster fish, which the crew said was a record for one day! They knew all the right fishing spots for each species including Wahoo, Tuna (lots of good eating), Rooster and Cubera Snapper and they were kind, courteous and safe. We missed the Marlin this time but will definitely be back! Beautiful days on the waters of Panama!

Diana Reed

8/14/2019

Fish on!My wife and I fished out of Cala Mia Resort on Isla Boca Brava. We fished one …MoreFish on!My wife and I fished out of Cala Mia Resort on Isla Boca Brava. We fished one full day and two half days. We got 19 yellowfin tuna and two big bull dorado in the boat the first day. We caught many of the tuna casting jerkbaits and poppers. There are few other thrills in fishing that compare with chasing blitzing tuna and watching a 50lb tuna inhale your topwater lure!!!The other days we spend pursuing the numerous inshore species around the islands. We caught rooster fish, cubera snapper, jack crevalle, horse eye jack, and even a couple of big needlefish. Casting topwater lures while slow trolling live bait produced many fish.The captains at Cala Mia were great. They were knowledgeable and friendly. It was great to fish with and learn from them. The gear was all high quality, and top notch. I usually bring my own gear when I go fish but there is no need to bring your gear to Cala Mia unless you want to.I will be back to fish out of Cala Mia without a doubt, its just a matter of how soon and how many of my fishing buddies will be coming with me!

Seth Flowerday

8/14/2019

Fishing Trip My son and I stayed 5 nights at the Cala Mia Island Resort (fantastic) and fished with the Panama Nautical Club for 3 full days (1 offshore & 2 inshore). Our fishing experience was exceptional. Our Captain, Carlos, and his First Mate, Christian, knew the locals waters like the back of their hands. My son had a wish-list of 5 species of fish he hoped to catch and he landed 3 out of 4 including 10 of the elusive Rooster fish, which the crew said was a record for one day! They knew all the right fishing spots for each species including Wahoo, Tuna (lots of good eating), Rooster and Cubera Snapper and they were kind, courteous and safe. We missed the Marlin this time but will definitely be back! Beautiful days on the waters of Panama!

islareeds

8/07/2019

To say this place is special is such an understatement!! I decided to visit for my 40th birthday in an effort to have one of the most epic weeks on the water of my life. The crazy thing about this place is that even if I hadn't of had an …MoreTo say this place is special is such an understatement!! I decided to visit for my 40th birthday in an effort to have one of the most epic weeks on the water of my life. The crazy thing about this place is that even if I hadn't of had an absolutely amazing fishing adventure the resort itself was worth the trip 10 fold. The service was top notch & endearing. The food was 5 star quality all made from scratch. The villas and resort was beautiful and spread out to make you feel as if you were the only ones there. David and Ana were there to ensure we the the vacation of our lives and I've been to dozens of high end resorts over the years but this place takes takes the top spot in my book. I was also fortunate to have 3 days fishing throughout the week, I highly recommend fishing, resting, fishing, resting, and fishing bc my body was worn after being put on so many fish that were so large. Everyday said it was going to rain bc it was the rainy season but we only ran across rain one time in the 3 days out. Carlos is an amazing captain and his mate Christian teamed up to be a world class crew. I filled my coolers with yellowfin tuna, caught monster rooster fish, and also caught 2 black marlin and had 4 bites that day in what is supposed to be the "off season". My wife caught the biggest fish of her life as well so overall I highly recommend this destination to EVERYONE!

Matthew King

7/14/2019

This place is unbelievable! Not only is it absolutely beautiful, but the service is incredible as well. I really like the fact that there are not hundreds of people there so you feel like you are having more of a private experience. …MoreThis place is unbelievable! Not only is it absolutely beautiful, but the service is incredible as well. I really like the fact that there are not hundreds of people there so you feel like you are having more of a private experience. The fishing is fantastic. The captains/crews are absolute professionals. Carlos and Christian were amazing to fish with!!

Tracey VanVeckhoven

7/14/2019

Cala Mia ROCKS!! This place is unbelievable! Not only is it absolutely beautiful, but the service is incredible as well. I really like the fact that there are not hundreds of people there so you feel like you are having more of a private experience.

The fishing is fantastic. The captains/crews are absolute professionals. Carlos and Christian were amazing to fish with!!

We liked it so much, we've been twice!

TraceyOKC

7/11/2019