Hannibal Bank & Isla Montuosa
Hannibal Bank Panama's Jurassic Park
Hannibal Bank has become legendary among those in the know about serious fishing. This continental shelf area has contributed to many IGFA world records.  The Bank is famous for the sheer size of its fish. A particular ocean current phenomenon and has made it one of the world's most unique fishing grounds.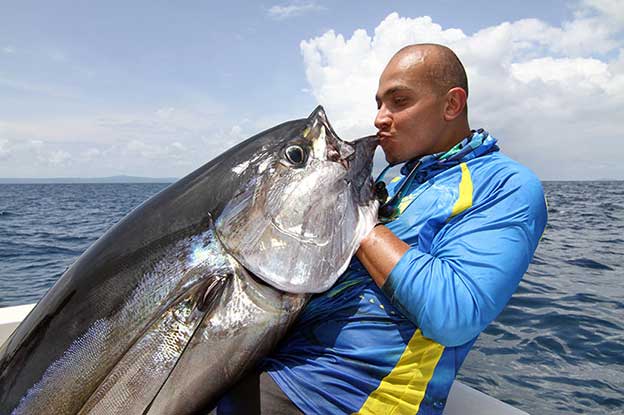 Hannibal Bank 
The area was discovered by the USS Hannibal in the early 1900s. The bank runs for about 5 miles and occupies an area roughly 3 miles wide . The Humboldt Current sweeps the rich supply of plankton biomass up from 1,000m to just 40m consequently setting off an incredible food chain.
Location
Hannibal Bank is 50nm from our resort. The run time is 1.5 hrs from the resort in our fishing fleet.  Isla Montuosa (42nm) is located on the edge of the continental shelf therefore excellent for popping Mullet Snapper and Jacks. Anglers wishing to fish deep can land trophy sized broom-tailed grouper.
Closer to the resort is Isla Landrones and Isla Secas (17 nautical miles). We often start out for live bait fishing or popping for Cubera Snapper and Roosterfish.  Right on our doorstep at Isla Parida (2 nautical miles away) lines are often hit by Amberjacks, Barracuda and Rainbow Runners and Roosterfish
Fish Species
The billfish and Tuna inhabit the waters a few miles out from Isla Montuosa. We catch huge Blue and Black Marlin, Sailfish, and trophy sized Yellowfin Tuna.
At the Southern end of  the Banks is Isla Coiba, a UNESCO world heritage site.  The largest river on the island is the Rio Negra (Black River) where large Tarpon can be found at the river mouth. Since these are protected waters fishing permits are required ($50 per angler per week).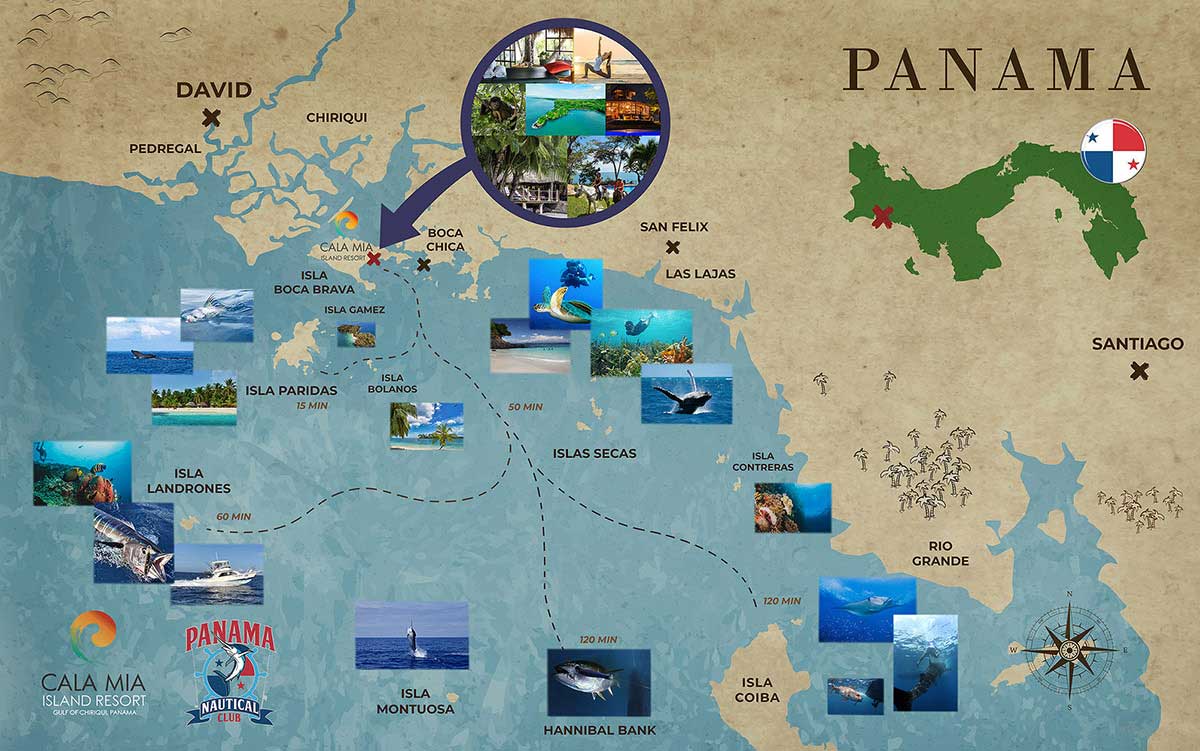 Fishing on Hannibal Bank and Isla Montuosa
Various billfish are abundantly found on the open waters off the Isla Montuosa and Hannibal Bank. Black Marlin are resident in our waters year round however most prolific in the winter months. Blue Marlin, as well as the acrobatic Sailfish can be found January thru march. Yellowfin Tuna are year-round, however the big 'cow' Tuna are landed in May and June.
August and September see the arrival of the huge female Black Marlin which can average in 500 lbs.  Each season a few lucky anglers land a beauty that tips the scale past the 800lbs mark.
Dolphin (Dorado) are also caught year round, but most abundantly and oversized from October through to February.